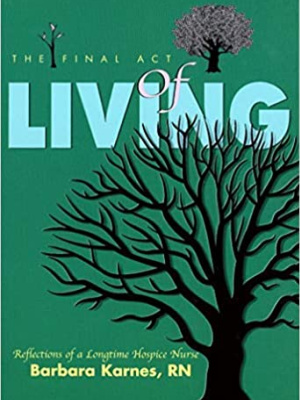 The Final Act of Living
The Final Act of Living: Reflections of a Long-Time Hospice Nurse is an end of life book, a resource that reads like a novel, yet has the content of a textbook. It is available in paperback copy and ebook versions. Barbara wrote this book following years of not only being at the bedside of hundreds of persons at their moment of death but with them as their hospice nurse in the months before their actual death. From the stories and experiences she shares you will see the unfolding of a process, a dying process, vs. death just happening. By being at the bedside during a time in our culture when a person dying was usually in the hospital, in a private room and very much alone, Barbara brings to the forefront of our consciousness the dynamics of dying from disease and old age. We will all be affected by dying, death and grief at some time in our lives.
The Final Act of Living: Reflections of a Long-time Hospice Nurse is a book on end of life that offers knowledge and clarity to ease the fear and misinformation about dying and death. It explores the topics of living with a life threatening illness, fear of death, understanding the signs of approaching death from disease, the dying process, stages of death, the normal grieving process, living wills and other end of life issues. The Final Act of Living is used as a resource on end of life issues, a training handbook for hospice volunteers, a reference book for lay ministers, social workers, counselors, nurses, and chaplains. An easy read for anyone interested in dying and grief a text book in college and university classes, CNA training classes, social work classes, and LPN/RN classes This material may be described as an end of life book however, as the title states, its content and philosophy is all about The Final Act of Living.
< Back